The first year of operations of the European Public Prosecutor's Office (EPPO) shows that it is working well: 4006 crime reports registered and analysed, 929 investigations opened and €259 million (more than four times the EPPO's annual budget) of freezing orders granted. Nevertheless, challenges remain, the most important one being the low level of detection of EU fraud.
As soon as the first EPPO case was registered at 7:00 exactly one year ago, the 'EPPO zone' was created. A zone where the EPPO is the primary entity responsible for fighting EU fraud by means of criminal law. Our 35 offices in 22 countries implement the same prosecutorial policy: to focus on cases involving serious organised crime, with the same main objective: to help the EU Member States recover the damages.
In the course of fulfilling its potential, the EPPO would like the participating EU Member States to set up dedicated specialised units to support our investigations. To that end, the European Chief Prosecutor has proposed the creation of an elite corps of highly qualified financial fraud investigators, who would be able to work transnationally within the EPPO.
The numbers
Of the 4006 crime reports processed, 1921 originated from national authorities, 1841 from private parties, 231 from EU institutions, bodies, organisations and agencies, and 13 were registered ex officio by the European Delegated Prosecutors.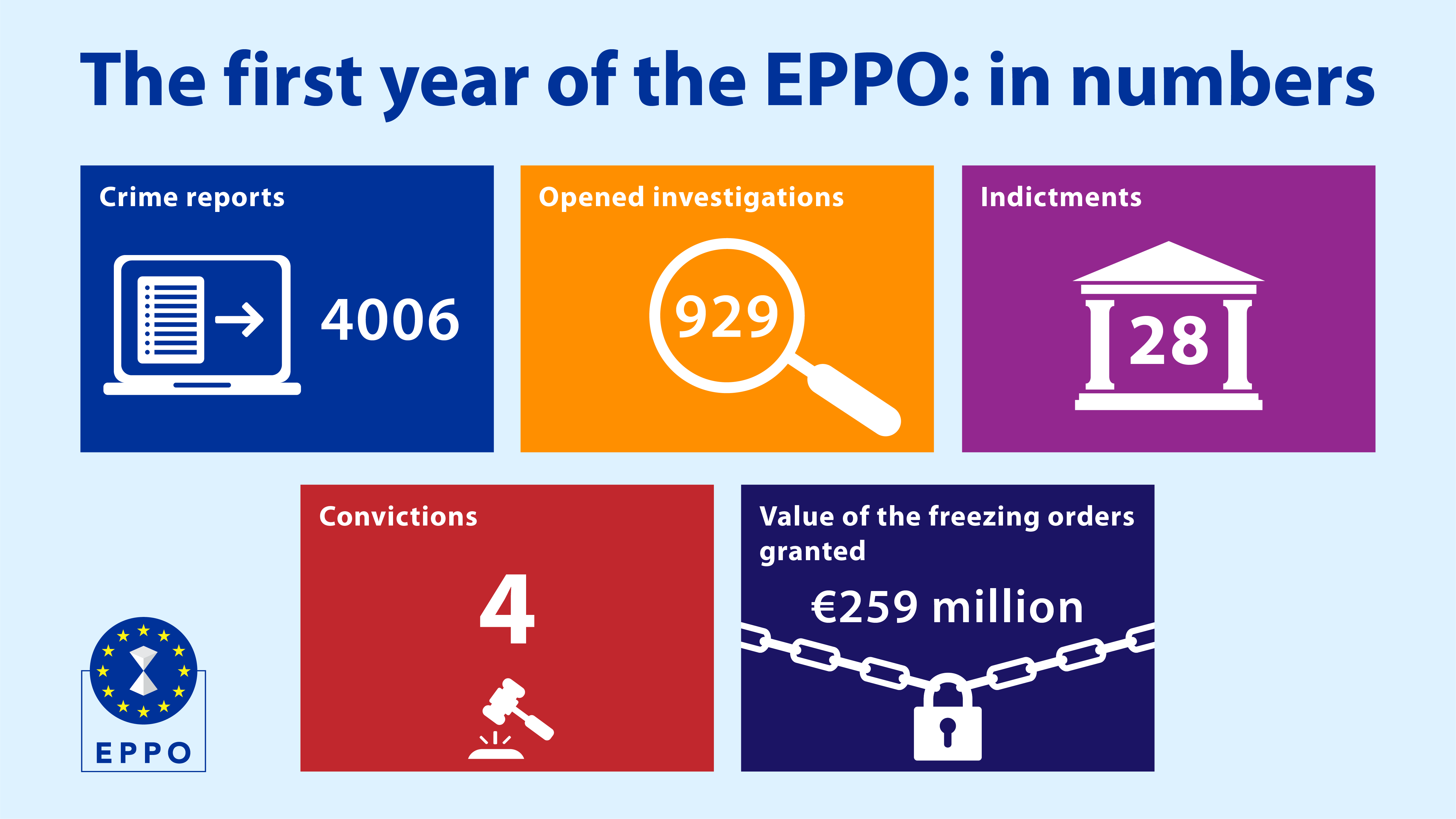 The EPPO difference
Once the EPPO gets a viable crime report, it brings about a tangible improvement. The immediate access to all the information in the cases registered in the participating Member States allows us to establish connections and find assets that could not otherwise be identified. The scope of the investigations is often enlarged to several countries, and no one is currently better placed to investigate all the possible ramifications of a cross-border case.
The EPPO is also a spectacular accelerator. The first convictions and confiscations have already taken place, which is unseen for these types of complex financial investigations.
Increase the level of detection of EU fraud
Be it in the EU Member States, or the different EU institutions, organisations, bodies and agencies, the level of detection of EU fraud is uneven and, too often, low. If there is no detection, there can be no investigation, no prosecution, no judgment and no recovery of damages.
Organised criminal groups are able to inflict tremendous damages with VAT fraud alone, probably between €30 and €60 billion per year. This is money that either should have been paid into the budgets of the Member States, or was simply stolen from them. Too often, we are confronted with a rather limited understanding of the implications, for any economy and society, of the existence of criminal organisations able to inflict such damages solely with VAT fraud. Especially in the current economic context, it is surprising that we still have to emphasise that combatting these organised crime groups with the utmost determination is necessary.