Image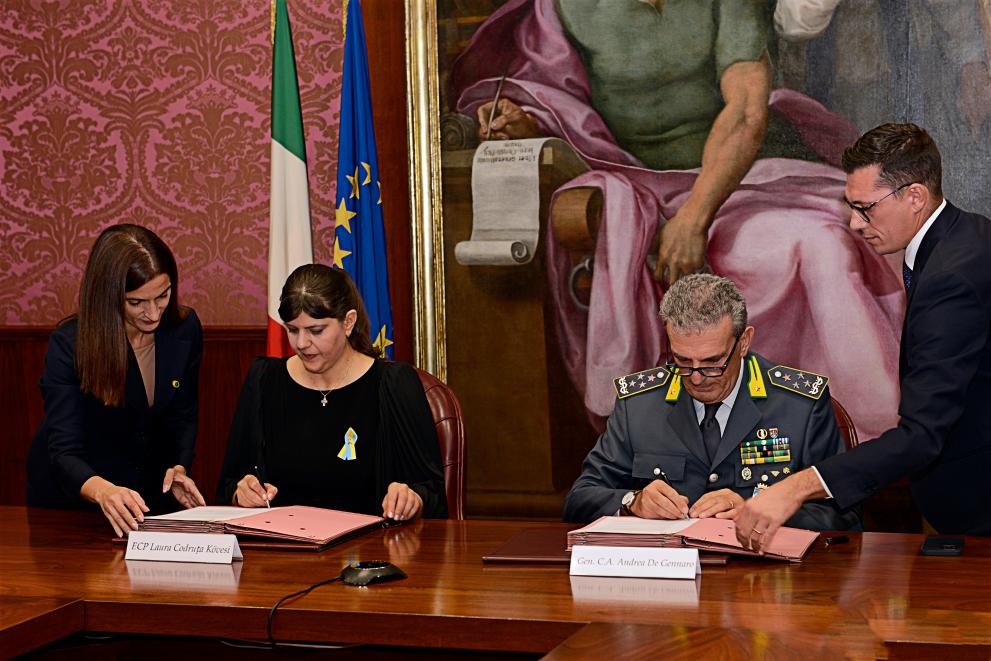 Working arrangement with Guardia di Finanza marks start of EPPO training programme
(Italy/Luxembourg, 27 September 2023) – The European Public Prosecutor's Office (EPPO) and the Italian Financial Police (Guardia di Finanza) have launched the 'EPPO Academy', a tailor-made training programme. The European Chief Prosecutor, Laura Codruța Kӧvesi, and the General Commander of the Guardia di Finanza, Andrea De Gennaro, signed a working arrangement to that effect yesterday. A ceremony, attended by the entire College of the EPPO, took place at the premises of the Economic-Financial Police School of the Guardia di Finanza, in Lido di Ostia, Rome.
In order to make a lasting difference to the fight against serious organised crime, the EPPO needs the support of dedicated and specialised investigators in all the participating Member States. Currently, in the European Union, there is an overall lack of experience in investigations into financial and economic crimes in general, and crimes affecting the EU budget in particular. The EPPO Academy's objective is to give any law enforcement officer working on EPPO cases the opportunity to learn from the best in any field relevant to the EPPO's competence.
Concretely, in 2024, it will propose a first set of training courses under the auspices of the Guardia di Finanza, at its world-renowned Economic-Financial Police School. Selected law enforcement officers from the 22 participating Member States will have the opportunity to gain a better understanding of how their work feeds into a transnational investigation led by the EPPO, and of different legal instruments of particular relevance to EPPO operations. They will gain deeper insights into existing means for the acquisition and analysis of evidence, and for the detection of crimes affecting the financial interests of the EU.
The EPPO will continue to enrich the offer of training courses under the EPPO Academy, and is exploring further needs and possibilities with relevant partners in the EU and beyond.
The EPPO is the independent public prosecution office of the European Union. It is responsible for investigating, prosecuting and bringing to judgment crimes against the financial interests of the EU.